The New CD
Chamberworks, the new recording of compositions by Brian Clément-Foreman, is now available.
How to Buy
To Purchase the Chamberworks CD click CD cover below: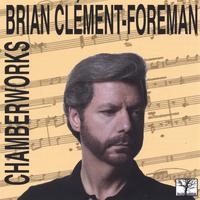 To Listen to the Chamberworks CD selections click songs below:
1. Euterpe for Piano and Guitar/Thorntree(Suite for Guitar)
2. Cantilene
3. Meditation
4. Dance
5. Aria
6. Badinage
7. Les Chenes Jumeaux/Six Preludes for Guitar
8. Prelude #1
9. Prelude #2
10. Prelude #3
11. Prelude #4
12. Prelude #5
13. Prelude #6
14. Divertissment for Oboe, Violoncello and Piano
Chamberworks
Introduction
Chamberworks presents a collection of compositions for solo instrument and chamber ensemble written by Dallas composer, Brian Clément-Foreman. These works find a composer at the height of his creative powers, inspired by events in his current life, as well as his past, that result in a highly satisfying listening experience. The evocative compositions are paired with soloists and ensemble units whose interpretation reveal sensitive, highly evolved musical talents dedicated to bringing the deep emotion and refined intelligence in the works to their fruition.
The Composer
Brian Clément-Foreman received his Bachelor of Music degree from the University of Louisiana, Lafayette, and his Master of Music from Southern Methodist University, where he studied composition with Thom David Mason. He studied composition an additional three years under Donald Erb at SMU. Mr. Clément-Foreman studied guitar there as well with Robert Guthrie, and in master classes with Segovia. He attended master classes in composition with such luminaries as Howard Hanson, Aaron Copland, Gunther Schuller, Stephen Dodgson, Jacob Druckman, Bernard Rands, and Ned Rorem.
Mr. Clément-Foreman has created numerous works for varying media that have been performed throughout North America and Europe. His Ætheria was written on commission and premiered at Carnegie Hall in 1982. It has subsequently been performed in Latin America, Spain, and Switzerland. The piece is featured on Carlo Pezzimenti's Ætheria on Elba.
Besides being recorded, his works have been heard on radio and television in this country and abroad, including in a series of broadcast performances in Italy and Romania. Mr. Clément-Foreman has been the subject of interviews in area publications such as the Dallas Observer and the Dallas Morning News. He appeared on the television program Classical Texas as the subject of a half-hour interview covering his music and the art of music composition. He has composed as well for film. His commissioned work for piano and guitar, Euterpe, premiered in 1999 and was performed in Holywell Hall, University of Oxford, at Oxford, England, and El Escorial (the Royal Palace), in Madrid. He composed Acadian Dance No. 2 (also in 1999) for an art exhibition in his hometown of Lafayette, Louisiana. The work for piano, string orchestra, Acadian accordian, and violin incorporates elements of the folk music of the region, elements which make appearances in many of his compositions. That same year, he composed his work Divertissement for chamber ensemble OPUS III, which also commissioned it.
Mr. Clément-Foreman was chosen as one of two featured composers for the Dallas-Fort Worth Classical Guitar Exposition at Meadows Museum at SMU. Several of his works were performed at the week-long event, including the premiere of Six Preludes, a guitar composition commissioned for the Exposition.
Mr. Clément-Foreman has sustained a long and devoted career teaching guitar, music theory, and composition in colleges and private studios. His years teaching and performing have benefited his many students, several of whom have received scholarships at the university and conservatory levels. He has served on the faculty at Brookhaven College in Dallas, founded the guitar program at Collin County Community College in Plano, Texas, created and hosted the radio program Guitaristic on WRR-FM, and served as critic for the journal of the Dallas Classical Guitar Society. With John Flohr and Carlo Pezzimenti, Mr. Clément-Foreman has published two method books: A Study of Guitar and Essential Guitar.
Mr. Clément-Foreman is married to pianist Be-Fong Shih. They live and make music in the Dallas area.
The Compositions
Euterpe (1999). Composition for guitar and piano. Commissioned by Marta Urrea and Carlo Pezzimenti.
During the time he composed Euterpe, Mr. Clément-Foreman was interested in exploring the possibilities of Oriental music. "[Euterpe] has an Oriental sound," he explained, "though it's not what people sometimes think of as Oriental." The piece takes its name from the Greek muse, fitting, in that as Mr. Clément-Foreman explained "Ancient Greek music is strongly influenced by the oriental aesthetic." A quote from Hesiod is featured in an epigraph on the score's inside front cover:
Let us begin to tell of muses, singing with blended voices of the things that are and will be, and were before this..."
Marta Urrea and Carlo Pezzimenti commissioned the work and have performed it in various settings since its completion, including at Holywell Hall in Oxford, England, where George Frederick Handel often performed. While the piece is not expressly a paean to Music or to the muse Euterpe herself, Mr. Clément-Foreman does see "relationships between the title, my interest in Orientalism at the time, and my treatment of the musical elements."
The piano states an opening theme based on a pentatonic (thus, Oriental) scale. The guitar restates the theme in a section involving the use of retrograde movement, a compositional technique Mr. Clément-Foreman uses frequently and to great effect. In a development section, the guitar imitates the earlier piano part. The original theme is then reintroduced and the dramatic tension builds through a passage that features guitar tremolo and strong elements of counterpoint between guitar and piano.
Asked what technical issues he confronted in composing Euterpe, Mr. Clément-Foreman said, "There are serious balance problems in composing for guitar and piano. The guitar is such a dynamically soft instrument in comparison to an instrument like the piano, which is capable of playing so loudly. Though a lot of the responsibility for maintaining balance goes to the performers themselves, you have to keep those factors in mind, too, when composing the parts." Asked to amplify on this issue, he said, "In a loud section, for instance, obviously you can't have the guitar playing single notes and expect it to cut through the piano. Or in a passage where the piano is doing a very busy accompaniment in the left hand, sixteenth or thirty-second notes, say, if the guitar is playing a single line on the first or second string—those lighter strings—it wouldn't carry. It's more likely the guitar will need to be playing heavy, full chords; arpeggios."
Thorntree (1995). Composition for solo guitar. Commissioned by Carlo Pezzimenti.
This suite of five pieces is rooted in fond memories of growing up in the Bayou region of Louisiana. As Mr. Clément-Foreman explains, "Inevitably childhood experiences play a role in the development of a composer, in fact the development of the whole person, but certainly in the musical aspects of his or her life." It is named for the street in suburban Plano where he and wife Be-Fong Shih lived at the time of its composition. He named each piece in the suite to suggest a rhythmic or melodic idea, an image, or musical relationship.
"Cantilene," the first piece, strikes the listener immediately with its lush richness of sound, particularly in the bass register, a quality brought out marvelously by the Telefunken microphone used in the recording. Characteristics of the recording studio and of performer Beau Benson's Rosas guitar are captured in gorgeous detail. The title speaks of singing, and the piece indeed presents a strong melody that is carried forward and developed at a lively, captivating pace. The Meditation provides a quiet contrast that unwinds and relaxes, yang to its predecessor's yin. "As a composer," Mr. Clément-Foreman observed, "you often just write about your life, something you see; a sound." In this case, the piece speaks of quiet, solitude; refuge.
The third piece, "Dance," was actually last to be written. Again providing a contrast to the one before, it possesses a strong duple feel, "an effervescent feeling and rhythm influenced by my experiences with the music of southern Louisiana ," as Mr. Clément-Foreman put it. The relationship to the folk music of Cajun Louisiana is evident, as well as, to this listener, to 20th Century Spanish composers in the vein of Manuel De Falla.
Like Cantilene, "Aria" speaks literally of song. Asked how he considered the piece's strong interplay of voices, Mr. Clément-Foreman said, "in terms of harmony, not traditional, but strong." Indeed harmonic movement is present at every point. The relationship between this piece and the Cantilene is most evident in the feeling of movement represented in the bassline, and in the contrast in tempi.
"Badinage" is a dance-like movement. Its name, a traditional French dance form, describes the lively back-and-forth of conversation. Question and answer, the modus operandi for all music, is almost viscerally present.
Les Chenes Jumeaux (2000). Composition for soprano and piano.
The Oriental influence explored earlier in Euterpe returns in a different form. Composed after a trip to Taiwan, it was originally written for a singer at the University of Taipei, Ching Mei Lee, who, while on sabbatical, was to travel to Paris for French language immersion. One listener described the piece after a performance as "impressionistic," a perceptive comment when one considers the strong influence the Far East had on French Impressionism itself (confer the paintings of Monet as well as Debussy's compositions).
The piece is nostalgic, again recalling a childhood spent among the sights, sounds, and sensations particular to bucolic Louisiana. "In composing the work, I concluded in order to properly express the joie de vivre of the people of the region the work must be in French," French people of the region," according to Mr. Clément-Foreman. The twin oaks of which the piece speaks were located in the back of the grandparents' house that inspired "Brume." "Even though the piece says they flanked the gate on both sides," he said, "they were actually off to the left as one came out the door and down the steps." The quality of yearning is clearly present in the piece. "We went back a few years ago," Mr. Clément-Foreman recalled, "and the trees were gone; knocked down by a hurricane."
Six Preludes for Guitar (2000). Composition for solo guitar. Written for Carlo Pezzimenti and commissioned for premiere at the Dallas Guitar Exposition.
The Preludes open with "Soliloquy," a name evoking self-expression in solitude, a conversation with oneself, and this is exactly what the piece delivers. The simple melodic statement is eventually enfolded by a richness of harmonic content, all of which results in an effect that can best be described as haunting. The contrasting Prelude 2 moves forward at a relentless pace. Technically challenging to play, with its constant use of a barre chord shape and difficult stretches of the left hand, its energy leaves the listener wondering at the limitless possibilities in composing for the guitar.
Prelude 3 follows with a more traditional, consonant harmonic conception that provides an effective contrast with the previous piece. The Hauser guitar played by Carlo Pezzimenti supports exquisitely this evocation of what Mr. Clément-Foreman describes tersely as "uncomplicated beauty." The wistfulness of the piece can have the listener hearkening back to his or her own store of treasured memories.
Prelude 4 presents a mix of influences, something of Bach, perhaps, as well as of contemporary Spain. Marked andante spiritoso, the work might be described as march-like. Its energy and playful quality are intended to suggest these essential qualities of the Louisiana Acadian psyche.
The fifth prelude, subtitled "Brume" (Fr., fog or mist), is marked con brama e lontano, (with distant longing). Its creation recalled "an early experience at my grandfather's farm in Evangeline. I remember one summer morning in particular, standing on the porch, looking off to my left, and noticing the beautiful lush greenery disappearing into the mist and fog in the distance." This period of childhood was a seedbed for many such memories, but this experience stands out. "It was the beauty of it and the serenity of it." Reflecting further, he said, "I didn't realize it until later, but I've written several pieces about those summers there, and it's interesting because my grandparents moved to the city when I was only nine. So many memories are left there."
Prelude 6 contrasts with the moody nostalgia of "Brume." Performed at a lively tempo, the piece moves through a series of repeated chords (reminding this writer at least somewhat of Villa-Lobos) that grows in intensity and then ends with a thrilling abruptness. As Mr. Clément-Foreman said, "'Storm and Stress' would be a fitting sobriquet for this effort conceived as a powerful contrast to the previous work and as a decisive ending." He insists that the piece is not as difficult to play as it sounds, (a welcome illusion for a guitarist!); nevertheless it "achieves the sought-after effect." No wonder, then, that he particularly enjoyed writing this final prelude of an evocative and highly characteristic suite for the guitar.
Divertissement (1999). Composition for oboe, cello, and piano. Commissioned by OPUS III.
This piece, consisting of an extended single movement, arose directly from a trip to Paris and visit to the Montmartre Cemetery. Walking among the tombs of such artistic lights as Berlioz, Truffaut, Colette, and Dumas, as Mr. Clément-Foreman related, he and his wife were "looking for the tomb of the Boulanger sisters." An elderly man was kind enough to lead them to the site. The piece was an inspired by the sisters' creative energy. Mr. Clément-Foreman knew when he began composing that it would likely become a chamber music composition, because "some of Lily Boulanger's best work is in that form."
The piece was conceived as a divertissement from the outset, but not in any traditional sense. Its length requires a greater degree of involvement on the part of the listener, who is encouraged to become immersed. The piece's second theme is introduced as the accompaniment to the first. Later, it becomes its own theme. "There is a moment when the second theme is presented in retrograde," Mr. Clément-Foreman explained. He contrasts this second theme with its retrograde version, then puts the one above the other. The harmonic content leans to the quartal, a stylistic decision the composer intended to suggest "the creative watershed that Paris represented between the wars," when it was truly the center of Western art and music. Nostalgia is thus evident in this piece as well, but livened with a passionate intensity.
©2005 Brian Clément-Foreman
Home | Biography | Musical Works | New CD | Photo Gallery | Helpful Links | Contact Us